Editor's note: The aftermath of the 2019 Hong Kong protests has been defined by swift and unrelenting waves of repression—including mass arrests, prosecution, and government-sanctioned harassment. We have continued our editorial mission of boosting local voices from the left and progressive community organizers, who continue to bravely speak out and highlight the government's ongoing dismantling of Hong Kong civil society.

We also expanded our editorial field by highlighting the struggle of Indigenous communities across Asia, including Kazakh nomadic pastoralists in "Xinjiang," the Ainu people in Hokkaido, and Kashmiris in their lands occupied by the Indian state. At the same time, we also sought to publish articles that expand our thinking about inter-movement dynamics and ways to build transnational grassroots solidarity across Black liberation, and Chinese and Hong Kong resistance movements.

This global editorial scope has resulted in 55 published articles in 2021, which we could not have accomplished without the collaborative generosity of dozens of brilliant writers, translators, and activists. Here are 11 articles from the archive that flew under the radar but we feel deserve some more attention.
January 6, 2021 — Blooming from places thousands of miles apart in the American Midwest and Hong Kong, a year of unprecedented uprisings has laid bare a global crisis facing state violence and policing. Yet for those of us who live in the margins, this is nothing new. It is not simply a shared spectacle of overzealous policing, but a moment of clarity revealing the violent underpinnings that necessitate policing in the first place.
July 10, 2021 — Instead of always thinking "what should I do?" or "what could we do differently?", what is that little aporia, or pause, or interstice, that interrupts our customary ways of thinking and behaving? In that suspension or intermission, maybe there's a chance for the political machine to be interrupted.
March 24, 2021 — In order to understand just how enmeshed states are through this transnational tech and infrastructure cooperation, it is necessary to think at multiple scales: not only the space that a rail line cuts through but also the atmospheric stream that flows and interfaces with it. The winds form a big part of how the land behaves through the desert spaces of the Taklamakan and Gobi. The Taklamakan spreads across the province of Xinjiang, a so-called autonomous region covering an area bigger than France, Germany and Spain put together, and sharing borders with Mongolia, Russia, Kazakhstan, Kyrgyzstan, Tajikistan, Afghanistan and India.
February 28, 2021 — "Why does the imagined audience of so much scholarship about China continue to be white and male? As a Black feminist, part of my motivation in beginning my project, Black Voices on Greater China, was to put a spotlight on Black women like myself and other Black individuals who have been left behind by current efforts to be inclusive toward those who have been traditionally excluded. I've been glad to see that since doing so, many new and similar organizations have garnered attention as well. There is certainly no reason more progress on this front cannot be made, as intersectional and interdisciplinary approaches and interventions involving Black feminist theory are frequently employed by our counterparts in Latinx, Native American, women's, and Asian American studies."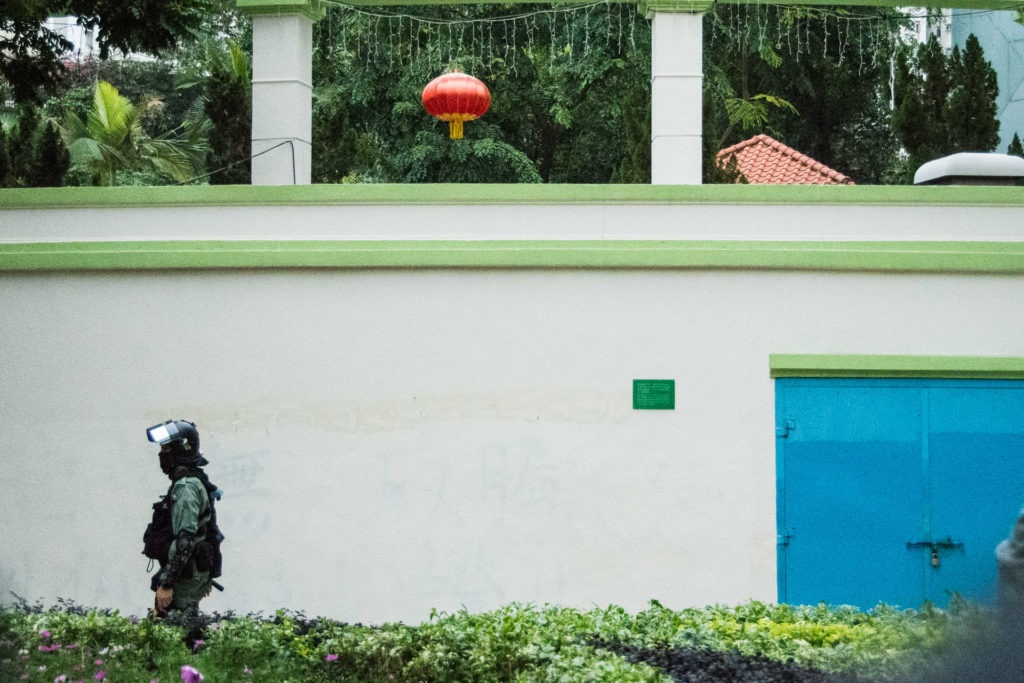 October 25, 2021 — Perhaps the more pertinent question is "What is the price of the uncritical 'pragmatism' that has always characterized Hong Kong's opposition camp, from the early pro-democracy liberals' compromises with colonial officials to contemporary localists' refusal to think critically about who we include as allies in our ranks in the name of 'unity'?" Have these methods worked against Beijing, and have Hongkongers genuinely considered what left-wing perspectives have to offer in practice?
April 18, 2021 — "Take students to observe strikes, and encourage them to write reports from their point of view to give workers a long-denied voice. Allow students to develop connections with workers directly in the field. This helps them get to know workers in-depth and gives them a point of entry in contributing to labor advocacy. Present them with a problem, immerse them in the situation, and encourage them to think critically and troubleshoot under those conditions. Give them confidence and encouragement, and they will slowly get used to problem solving."
January 7, 2021 — This outrageous wave of arrest cements the government's intent to stifle and criminalize all dissent. It implies that the government's removal of its parliamentary opposition has expanded to a full assault on Hong Kong's civil society, including targeted arrests on academics, researchers, labor organizers, and advocates of social justice for marginalized communities.
May 23, 2021 — Political space is always a result of struggle and never granted from others; forgetting this equates to self-hypnosis. If the left loses sight of this, it will never take up space in the political theatre, let alone liberate the working class.
May 2, 2021 — How can we understand the BNO scheme and the New Plan for Immigration as concurrent developments in the UK's immigration and asylum policy? How can we reconcile their seemingly opposing tendencies? The answer lies in the historical, moral, and political construction of the "good" versus "bad" migrant. This distinction, though appearing to benefit certain communities, is ultimately harmful to everyone because it reaffirms the state's power to decide who "deserves" to be safe. As Hongkongers in the UK, we must resist co-optation into the British state's racist agenda, and stand in solidarity with migrant communities in the fight for dignity, rights, and justice. Read this piece in Chinese.
10. Confronting the new 'big platform'—Part 1 and Part 2
April 21/30, 2021 — As the dust of the movement settles and Hongkongers face new rounds of repression on a daily basis, reorienting resistance based on the lessons of the last two years has become an urgent task for future struggle. This two-part assessment written by an active participant in the movement provides a comprehensive overview and critical look at the internal contradictions and complex socio-political forces that have brought Hong Kong's resistance to where it is today under the National Security Laws (NSL).
January 17, 2021 — Once we left the factory, we wasted no time to get back to our "original" lives, sitting in our brightly-lit apartments, our soft fluffy beds. Even if our minds are still dwelling on the factory, our bodies have left it altogether. We have escaped the tedium and pressure of that dreadful place. But what about our worker brothers and sisters? They are still sleeping in the same dorms, standing in the same spots at their workstations. For them, there is no real escape.